Dallimore Ceilings Vehicle Graphics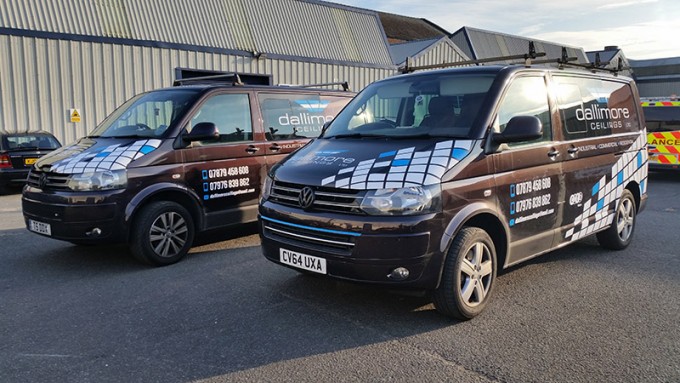 Re-Designed Vehicle Graphics
Our client, Dallimore Ceilings decided to keep their vans for another couple of years, so they wanted to refresh the look and the design of their vehicle graphics. Previous signs were provided without many consultations with the client by the supplier of the vans, so the customer wanted something they chose themselves. Cee Graphics provided a new logo design for their company as well as the new vehicle graphics design. After a couple of alterations and consultations with the client, we got the design approved and proceeded with the production of the vinyl graphics.
De-letter And Re-letter
As the vans had old stickers on, we had to remove the existing graphics before applying the new ones. Using a heat gun we removed them without much trouble, and any glue residue left behind we cleaned using some glue remover liquid. After all the cleaning work we could finally proceed and install the new vehicle graphics.
Elvir was really helpful and nothing seemed too much trouble while designing our graphics. When all designs were agreed we had a great job done on our Transporter vans. Would highly recommend.

Thank you Neil for your kind words. For some photos of Dallimore Ceilings vehicle graphics, please check below.